Leisure facilities - creating sustainable attractions
To offer the guests new attractions again and again and to develop new business fields is the daily bread in management for many tourism companies. After all, the competition never sleeps, and so new ideas are always courted for the visitors.
In order to create an offer for the family customer group, multi-layered attractions are required that work for several, if not all, age groups. Play equipment is a means of generating this offer. Whether alongside hiking trails, as a playground with several devices or as a breathtaking attraction - playgrounds can be designed according to individual needs and wishes and thus act as an enrichment for existing attractions, as a new offer or as a unique selling point.
Often regional themes are suitable for the design of the playground. This can be a saga, a mascot, or the history of an area. With this overarching topic, the conditions on site and your wishes, unique attractions can be created which, cleverly marketed, bring sustainable growth in visitor numbers for the company / destination. But you don't always have to design everything individually and you don't have to reinvent the wheel. Exciting spaces can also be created with standardized play equipment. Often these products can be put together and adapted individually in the form of modular systems. This includes our OBRA MAXIMO program. This has been tried and tested in practice and has the advantage that spare parts are quickly available if necessary. When choosing a manufacturer, you are therefore well advised to ensure that, on the one hand, special solutions can be implemented and, on the other hand, a wide range of standard play equipment is offered.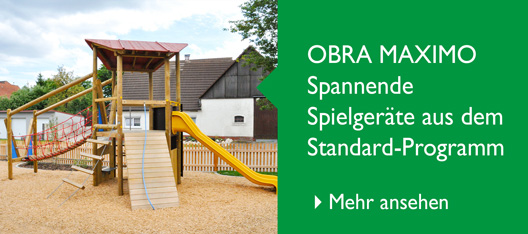 Once the playground has been set up, the hiking trail has been equipped and the unique construction has been implemented and this attraction has been opened in a media-worthy manner, the operator must also deal with the safety and maintenance of the new offers. This already starts with the planning. As a partner, the supplier must demonstrate appropriate planning skills and observe the standards. It is our aim to accompany you through this whole process and to offer you a complete package for everything to do with the playground. In order to be able to guarantee the best possible care, our consultant regionally active. Your wishes will be documented in a first meeting. From this we work out a concept for you and create a plan for the attraction. We design and manufacture the required systems for you - of course in compliance with the play equipment standard EN 1176. Our assembly teams, trained in accordance with the SBVA (Spielplatzbauer Verband Austria) quality seal, install these on request. This is followed by the installation acceptance and of course we are at your side with advice and action for ongoing maintenance work.
Here is a selection of references: